Whenever a major player in the sports news business writes about the hobby, it's worth taking a look.
ESPN.com writer Tracy Hackler
says Apolo Anton Ohno's 2004 Donruss World Series Fans of the Game Auto /300 has been popping for as much as 325% above its current Beckett value.
It should also be noted that Ohno has a base card from that set that only sells for a couple dollars.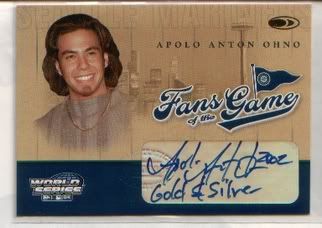 There aren't that many Autographs on eBay check the ones that are:
Apolo Anton Ohno Autograph /300
2004 Donruss World Series Fans of the Game