Last week Press Pass released the print runs for the Red Ink Inscriptions and the Sam Bradford 'Boomer Sooner' autograph was limited to 5.
The St. Louis Rams made Bradford the #1 pick in the NFL Draft, and his cards will be getting a lot of attention until he starts throwing INT's. A 2010 Press Pass Football Sam Bradford 'Boomer Sooner' inscription autograph is currently on eBay, and the price tag has already hit $300.00.
2010 Press Pass Sam Bradford Gold Autograph
Serial Numbered: 10/75
'Boomer Sooner' Inscription Parallel Print Run: 5
Watchers: 24
Current Price: $307.00
Final Price: $360.00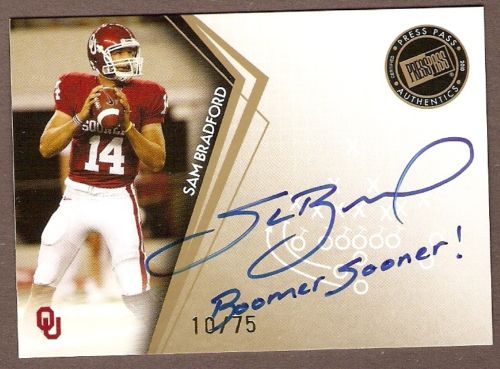 Bradford and the #9 pick, Bills RB C.J. Spiller, are the hottest players so far, and will be the focal point of the early 2010 sets. Their
2010 Press Pass
cards have sold well, and collectors will be looking to the release of
2010 Panini Prestige
to wet the appetite even further.