Jason Heyward does have a 2007 Bowman Chrome Draft Picks card, but his 2010 Bowman cards feature the MLB Rookie Card Logo. His Superfractor Autograph, serial numbered 1/1, is currently on eBay.
Update
: All three Bowman Jason Heyward Superfractor's are on eBay. 2007, 2008 & 2010.
Blowout Cards
, the 2010 Bowman Chrome Superfractor was pulled from a box purchased from them. With the attention the Stephen Strasburg Superfractor 1/1 got, it's a great time to have the 2010 Heyward Superfractor for sale. It's the 2nd most watched trading card currently on eBay. Currently #1? The
Stephen Strasburg Red Parallel 1/1
.
2010 Bowman Chrome Jason Heyward Superfractor Auto 1/1
Watchers: 1,076
Current Price: $3,550.00
Final Price: $6,156.00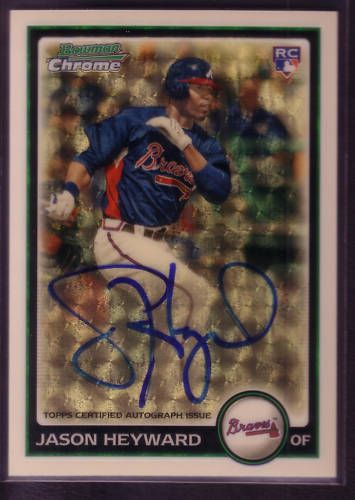 UPDATE
: His 2008 Bowman Chrome Superfractor 1/1 Autograph is now for sale on eBay. Yeah, it is confusing. Heyward was drafted in 2007, so Bowman can make a "Draft Pick" card. In 2008, this is Heywards first Bowman Chrome "Prospects" card. He does not have a Bowman card in 2009. The 2010 Bowman Chrome card has the "Rookie Card Logo" because he appeared in an MLB game, and Topps can stamp that logo on his cards during 2010. Feel free to email me if you have any questions: sportcardreport@gmail.com
2008 JASON HEYWARD BOWMAN CHROME SUPERFRACTOR AUTO 1/1
Watchers: 203
Current Price: $4,900.00
Final Price: ???
Update
: Seller took card off eBay. Usually that means s/he was able to work out a deal for the card "off-eBay." Or perhaps they decided now was not the right time to sell.
Jason Heyward's 2007 Bowman Chrome Draft Picks Superfractor 1/1 is also for sale on eBay. This card
originally sold in February
for
$1,550.00.
The card then got sent to be graded by BGS and received a grade of 9. Sub grades: Centering 9 - Corners 9 - Edges 9 - Surface 9.5. Asking price? $10,000.00 or best offer.
NOTE:
That is a printed autograph by Topps on the 2007 card below -
NOT
an actual Jason Heyward autograph. The 2010 & 2008 Superfractors above features an actual Heyward autograph. Some Bowman Superfractor cards are autographed, while others are not.
2007 Bowman Draft Chrome SUPERFRACTOR 1/1 JASON HEYWARD
Watchers: Unavailable
Buy it now price: $10,000.00 O.B.O
Does it sell: ???????