On May 29, Robert Power shocked the baseball card world when
he paid $16,403.00
for a 2010 Bowman Chrome Superfractor 1/1 Stephen Strasburg. I predicted at the time that the card would never sell for more then that price. Boy was I wrong.
Robert currently has the card for sale on eBay, and bidding has already exceeded the price he paid just a few weeks ago. Power said on an
interview with ESPN First Take
that he thought the card would sell for $22,000.00 when he first bought the card in May. It's interesting that he also mentioned in the interview that he sent the card in to be graded by Beckett (BGS). The current auction is for an ungraded/unslabbed card.
If the current auction ends (with an approved bidder) above what Mr. Power paid in May - it's a massive win for the hobby. There were countless people, including myself, who thought that Robert went overboard when he bought the Strasburg 1/1 Superfractor card on May 29 for $16,403. Now just a little over three weeks later he can take turn around and flip the card for more than he purchased it for.
Update: WOW - The card WAS GRADED. BGS 9.5. Take a look at the centering. More updates to come. - Update II: I don't want to get in trouble - but Beckett ought to be ashamed of themselves for that stunt giving that card a 9.5. Thanks for tainting a great story Beckett.
2010 BOWMAN CHROME SUPERFRACTOR STEPHEN STRASBURG 1/1
Watchers: 3,854
Current Price: $22,422.00
Final Price: $25,000.00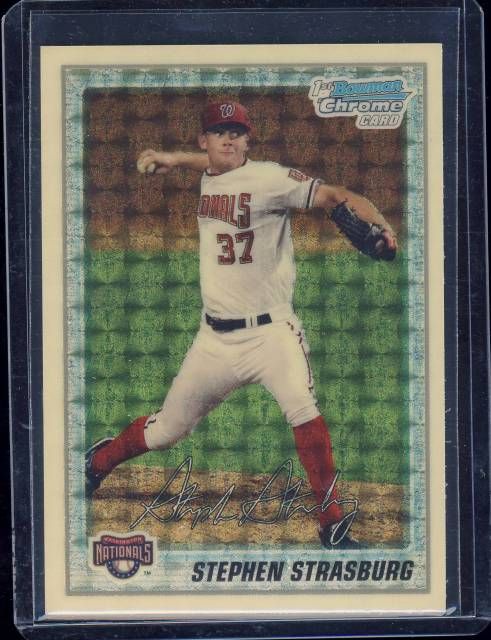 Original auction stats from May 29th sale:
2010 Bowman Chrome Baseball Stephen Strasburg Superfractor 1/1
Sold For: $16,403
Bids: 84
Auction Date: May 19 - May 29, 2010
Auction Watchers: 10,330
eBay Seller: dunksb_sz10
eBay Buyer: taxdaddy (Robert Power)