The Washington Nationals were dealt a devastating blow earlier this week when they learned that prized pitcher Stephen Strasburg will have to undergo Tommy John surgery, effectively ending his season and putting 2011 in doubt as well. Nationals fans will turn their lonely eyes to the teams 2010 number one overall pick, Junior College Phenom Bryce Harper, and hope he can live up to the hype that has buzzing around him for years.
Collectors also felt the aftermath of the Strasburg injury, as all of his rookie cards have plummeted in value to record lows with sellers now willing to accept anything they can get. Bryce Harper now steps into the hobby forefront and one of his key early cards is currently for sale on eBay, a 2010 Bowman Chrome Red Refractor #/5 graded BGS 9.5. The sub-grades are: Centering 9.5, Corners 9.5, Surface 9.5, and Edges 9.
Harper may take some time to reach the majors which might be a good reason to sell high on him right now. For one, he will be learning a new defensive position as he won't be playing catcher in the big leagues. He is also still very young, remember he got his G.E.D. after his Junior year of High School so that he could go play J.C. ball in Nevada this past season. Even the lowest level of minor league baseball will be a huge jump in skill level for Harper and at some point he will face struggles. That will be the best opportunity to buy is when he has a few bad weeks, or months, at the minor league level. Prices for Harper's rookie cards will remain hot throughout 2010 and probably well into 2011 unless he struggles early. Keep in mind that with the injury to Strasburg the Nationals may be more inclined to take their time with Harper and that will create many buying opportunities before he hits the major leagues.
Bryce Harper 2010 Bowman Chrome RC RED Refractor /5 BGS 9.5
Watchers: 96
Current Price: $2,125.00
Final Price:
$2,925.00
Auction Ends: August 29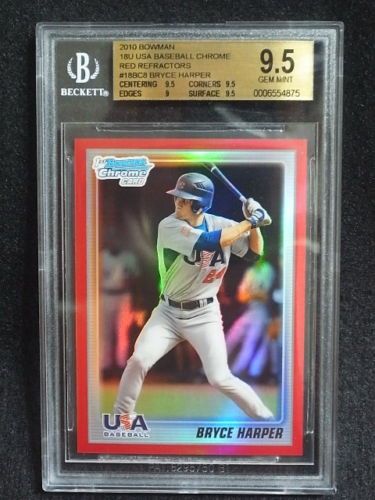 2010 Bowman Chrome Bryce Harper USA Superfractor 1/1
Watchers: Unavailable
Buy it Now Price: $19,999.99 Or Best Offer
Superfractor - Serial Numbered 1/1