The Baltimore Orioles selected Manny Machado with the 3rd overall pick in the 2010 MLB Draft. The star high school shortstop played for Team USA and that allowed Topps to produce baseball cards of Machado and other USA stars including Bryce Harper before they were drafted.
sold for $1,225.00
. The card featured below is the Red Refractor parallel serial numbered 1/5. Machado has not signed a contract yet with the O's, but has a couple more weeks to hammer out a deal. He could choose to go to college, but I imagine the money will be too much to pass up and he will one of the top prospects to watch in 2011.
Many baseball scouts have compared Machado to Alex Rodriguez, which would delight collectors if Manny ever put up the type of numbers A-Rod has during his career. It's also not known if Machado will remain a SS or will have to move to another position, like 3B, 1B or the OF.
2010 Manny Machado Bowman Chrome Red Refractor RC 1/5
Watchers: 38
Current Price: $201.87
Final Price: $560.00
Auction Ends: August 4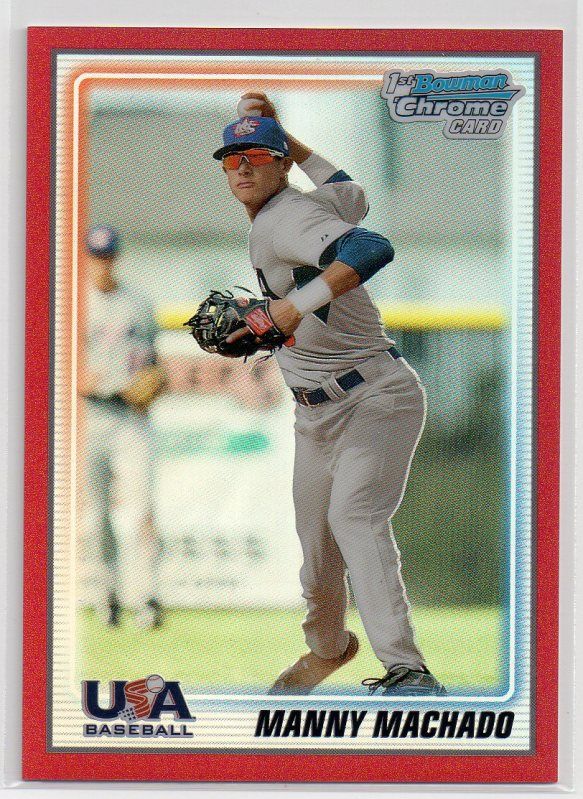 2010 Bowman Chrome Manny Machado Superfractor 1/1
Watchers: 100
Final Price: $1,225.00
Sold on eBay: June 2010